Belted Kingfisher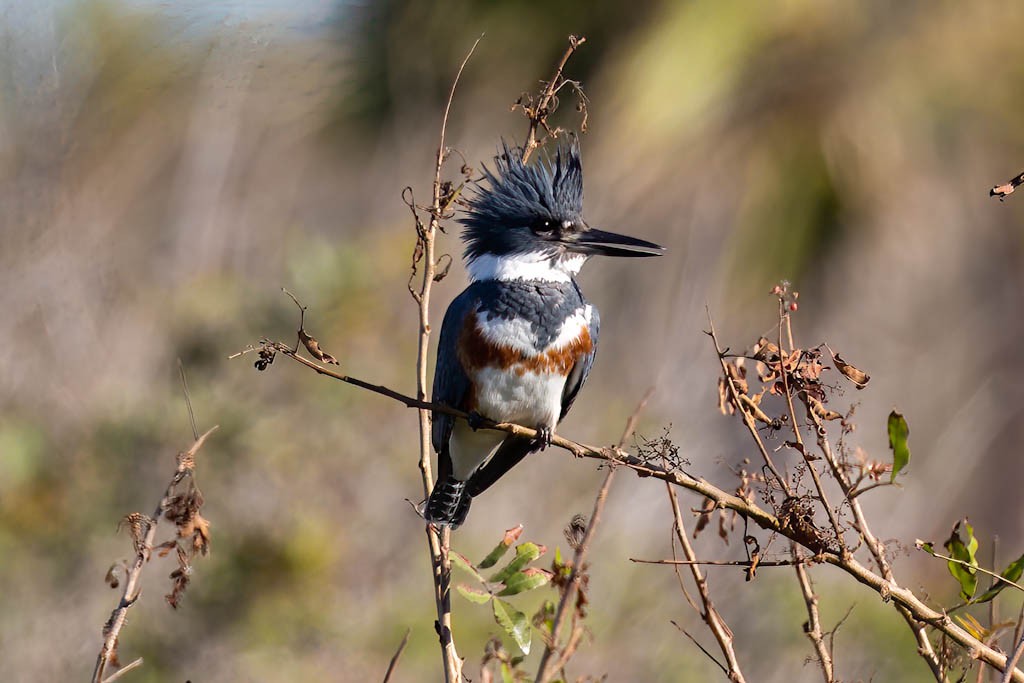 Female Belted Kingfisher surveying the waters for a meal.
Description
The Belted Kingfisher is special. It is one of the few birds where the female is more colorful than the male. In the case of the Belted Kingfisher, the females have a rust-colored belly band that the males do not possess. These birds are adapted to dive headfirst into the water, grab a fish, and have enough thrust to launch themselves out of the water and continue to fly.
---
Personal stats

First observation
| | |
| --- | --- |
| 📆 | 11/10/2013 |
| 📍 | Bolsa Chica, California |
Captured media details
| | | | |
| --- | --- | --- | --- |
| | Male | Female | Unknown |
| 📸 | ✔️ | ✔️ | |
| 🎙️ | | ✔️ |   |
---
Experiences & anecdotes
12/15/2022 - One of my earliest birding core memories is being at Ballona Creek birding with the Audubon and my brother when someone spotted a Belted Kingfisher. They put a spotting scope on it and we all got a chance to get a great look at it. My brother took a really nice photo of it through the scope with his phone. I'm trying to track down this photo from 2013.
Recently on a trip to Denver, Colorado, I visited Rocky Mountain Arsenal National WIldlife Refuge. While I was there, I ran into a group of women who were there birding too. They tipped me off to a nearby Belted Kingfisher that was flying around. I walked in that direction and got lucky to spot it and capture a few photos.
1/14/2023 - On a recent trip to South Padre Island, we visited the Birding and Nature Center several times. Each time we visited we saw a Belted Kingfisher. Our final visit was on a windy morning and through the noise, my Merlin app picked up the calls of the kingfisher. We spotted it in a distant tree across the water (see featured photo above).
---
Captured media
Photographs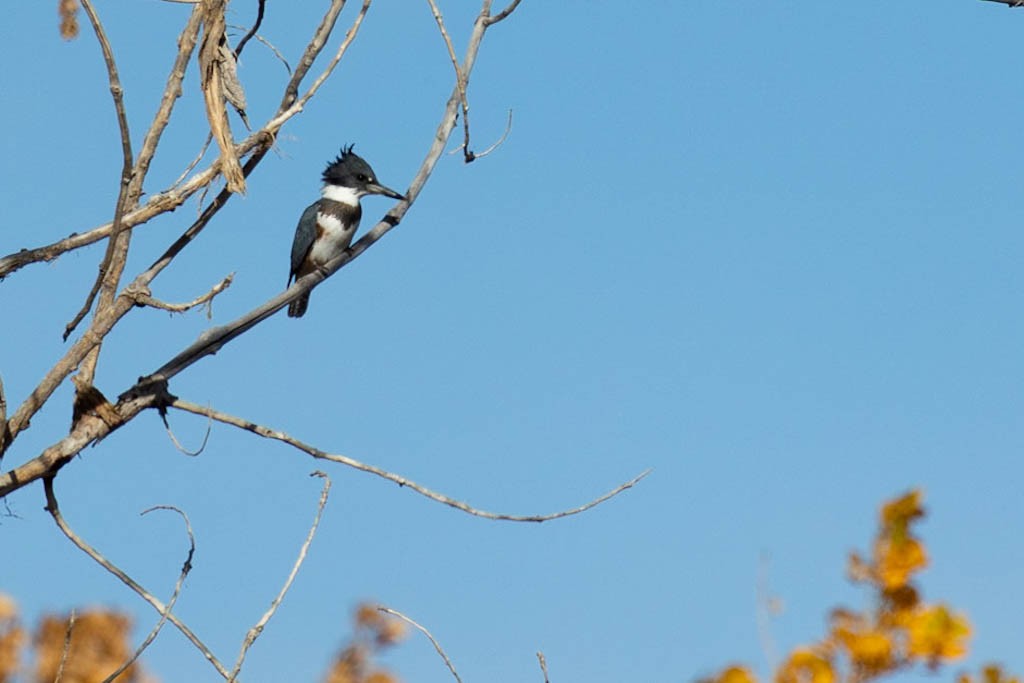 A Belted Kingfisher perches on a branch while looking for fish. I think this one may be female because of the rust-colored feathers near its wings.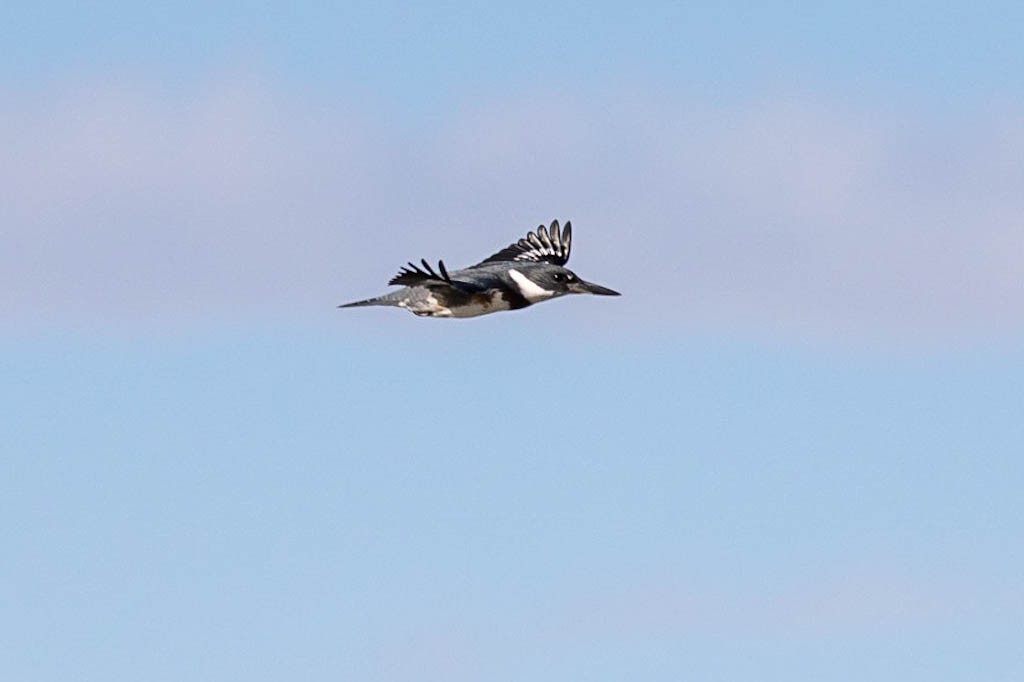 This Belted Kingfisher in Colorado flies around the river | 10/23/2022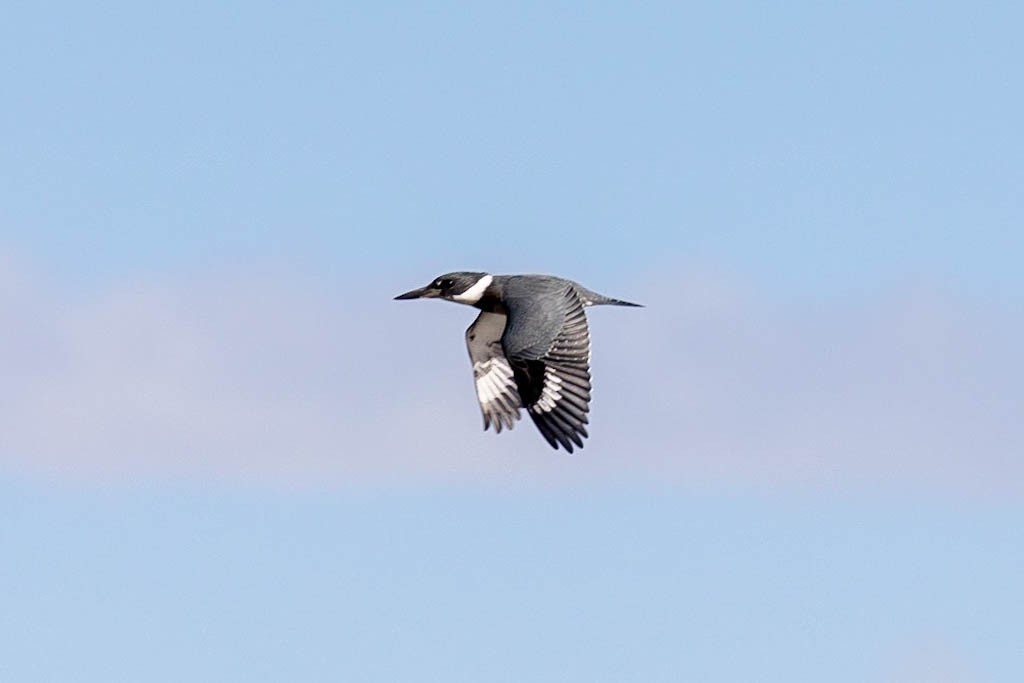 A good view of the upper wing | 10/23/2022
---
Audio recordings
ML519464621- 0:23

Listen to two calls of the Belted Kingfisher punctuated by the Northern Cardinal
ML519464611- 0:21

These three calls of the Belted Kingfisher are accompanied by an American Robin and Northern Cardinal.
---
From my blogs